Kia Ora,
Tauranga Tourist Park is a small, sheltered Holiday Park situated within Tauranga City. We are dog-friendly but do have strict rules that need to be adhered to. These are listed below.
Office hours
Summer and Winter 8.30 am to 7.00 pm
The office is closed daily from 11 am to 12.30 pm.
Check-in is from 1 pm.
Late check-in /check-outs are only available with management approval. This must be organised prior to making a booking.
We are a small family-owned park and changed our name from a Holiday Park to a Tourist Park a number of years ago as we do not have a playground or facilities that can entertain or cater to groups. This helps us to keep our park fairly quiet and laid back.
Our park caters mainly to campervans, caravans, and mobile homes with power/non-power sites, tent sites, cyclist sites, and standard one-room cabins.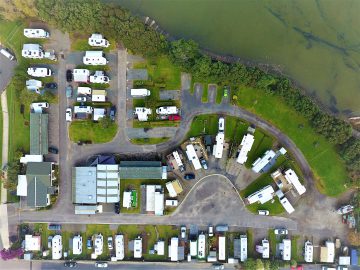 What to expect
Check-in from 1 am
Check out for all guests is by 10 am
Deposits are required to secure your booking. Payment can be made via credit card, cash, or direct debit.
Please note! No playgrounds and we do not cater to groups due to our size.
Animal Rules
By arrangement only. Dogs to be supervised and on a leash at all times. All doggy doos to be picked up immediately. No dogs in the ablution facilities. Not to be left in the park unattended. Must not cause a disturbance to other park guests.
Cancellation/refund policy:
Bookings in advance of 2 months require a 50% deposit or an equivalent to 3 nights stay. Bookings for one night require a 100% deposit.
Cancellations up to 28 days prior to the day of arrival: Deposits are refundable less a 50% cancellation fee. Bookings canceled within 28 days of your booking are non-refundable or a $20 administration fee may be charged at management discretion.
Bookings are unable to be transferred to another person. Earlier departure than the reserved date will not result in a refund.
Covid: Under the current mandate, we do not require vaccination certificates.  Changes in the traffic light system do not affect our cancellation policy.
Smoking: All our facilities are smoke-free. Please smoke outside, away from open windows, doors, and other guests. In the event of someone having smoked in our rooms, a cleaning fee of up to $200 will be charged to the registered guest.
All cabins will have a hold placed on a registered credit card as security against damages to the Park. This will be an equivalent amount to one-nights stay. This must be a credit card, sorry no debit cards. In the event you do not have a credit card management may, at their discretion, charge you one night stay which is refundable upon departure after a satisfactory room inspection.
If you do not accept these terms and conditions you are able to phone us and cancel your booking free of charge up to 12 hours after you have made a deposit. After this time you are accepting our terms and conditions.
Location
Our park is 4 kilometers from the City center or a 40-minute walk. Local buses pass every 20 minutes and taxi services are also available.
Around our park
The nearest supermarket is just a 15-minute walk; hospital 20-minute walk; movie theatre 4 kilometers and hot mineral pools 6 kilometers.
Save
Save
Save
Save